SAP released their first set of Fiori apps way-back in 2013. Now in 2020, probably everyone knows the importance of Fiori in SAP domain.
SAP Fiori refers to collection of apps created based on SAP User Experience strategy to give a modern user interface experience to its users. Fiori apps are responsive and fits seamlessly on all types of devices, like desktop, tablet or smart phones.
All Fiori apps are user experience driven and are created based on SAP's User Experience Strategy. You can watch this introductory video on SAP Fiori.
You can download SAP Fiori Introduction PPT by clicking here.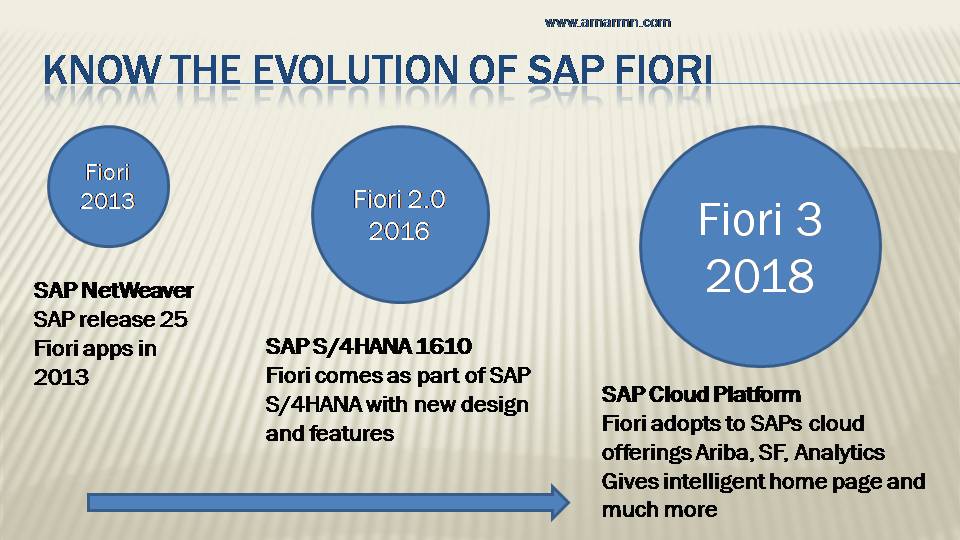 First set of Fiori apps were released in 2013. SAP had released 25 transactional Fiori apps. In 2016, SAP release Fiori 2.0. Fiori 2.0 was release as part of SAP S/4 HANA 1610. By 2016, the count of Fiori apps had reached to thousands. In October, 2018 SAP released Fiori 3. Fiori 3 is based on Fiori 2.0 but is enhanced to make it make it useful for other SAP cloud based products. Fiori 3 will be adopted by SAP's all cloud based offerings like Success Factor, Ariba, Concur, etc.
SAP UX Strategy
SAP User Experience strategy ensures to improve user experience of their customers. It involves three major strategies. New, Renew and Empower.
SAP follows the NEW and RENEW strategy by constantly developing brand-new
applications (NEW) based on Fiori design principles to meet business functions.
The adaption of Fiori standards and guidelines in existing applications (RENEW) becomes part of RENEW strategy, giving priority to most commonly used business scenarios.
EMPOWER gives customers all necessary tools and technologies to innovate and create UX driven solutions for their business processes.
SAP Fiori Concept
All Fiori app follow these 5 basic principles. They are Role-based, Adaptive, Simple, Coherent and Delightful.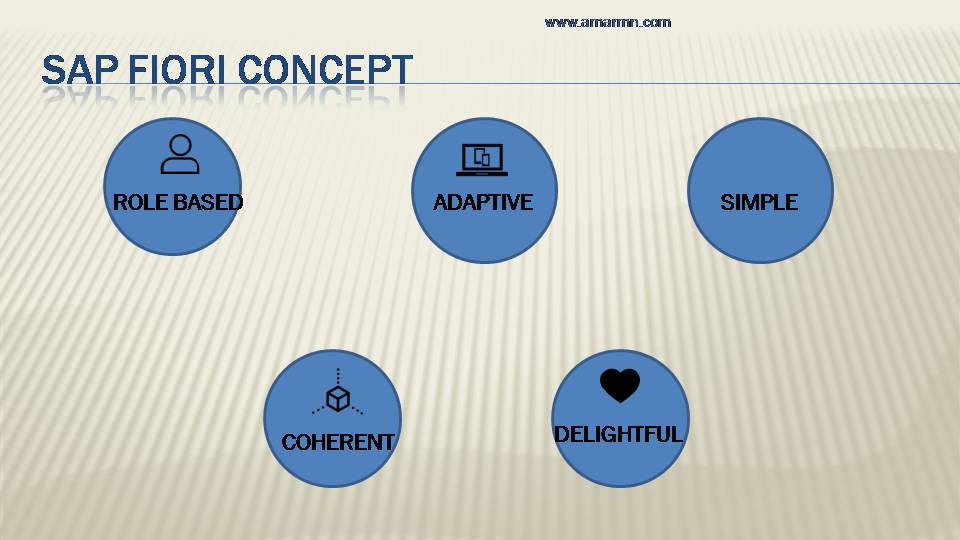 Role-based is the biggest change that SAP has considered while creating Fiori apps. What does role-based mean in terms of Fiori? It means that the Fiori apps are created such that end users get all information and functions that they need in their daily-work, but nothing more than that. This a big shift in application design concept, compared to SAP's classical GUI applications. The classical GUI applications were function oriented. The Fiori apps are user oriented.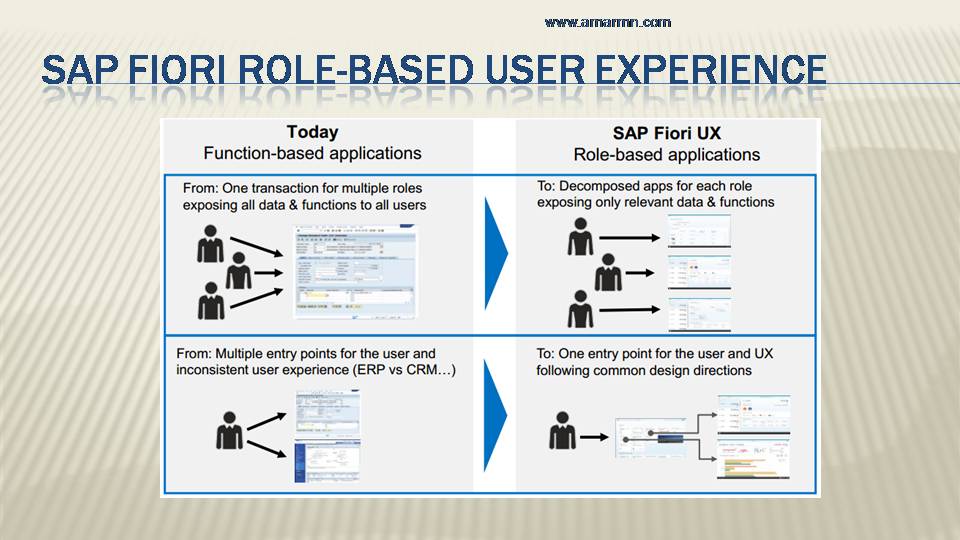 Adaptive All Fiori apps will be responsive and work seamlessly across all devices such as phones, tablets and desktops.
Simple Fiori apps are simple in design and intuitive in use.
Coherent All SAP Fiori apps will have similar look and feel, following consistent design principles
Delightful Fiori apps have low barrier of adoption and are fun to use. This leaves a positive user experience to their users.
How Fiori will benefit end users
Working on Fioiri apps will increase end users productivity. A delighted user experience will encourage users to accomplish their task quickly. An efficient work force will decrease cost and increase revenue for the business.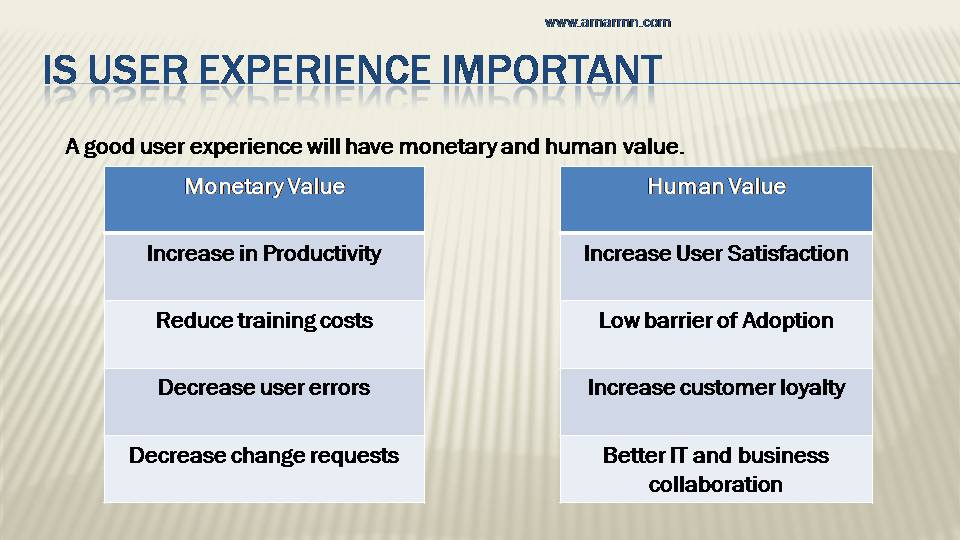 Types of Fiori Apps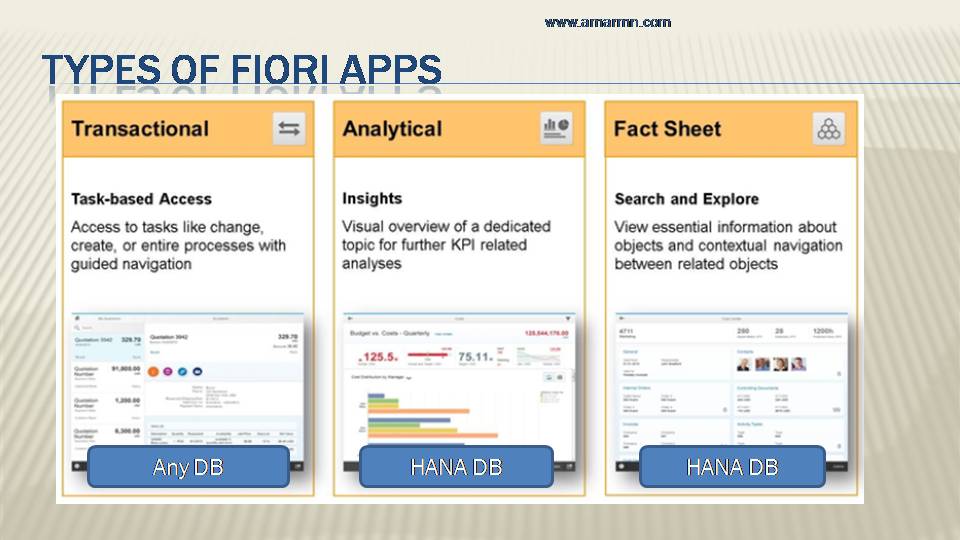 The three types of SAP Fiori apps are Transactional, Fact Sheet and Analytical apps.
Transactional Apps
Transactional apps let your perform transactional tasks. Creating sales order by sales representative or applying leave request by an employee are all examples business transactions. An SAP system will have endless number of transactional processes. Transactional apps were created to accomplish various business transactions.
● Meets the various transactional business functions of a business system
● Available for S/4HANA and Business Suite and runs on any DB
Analytical Apps
Analytical apps give real-time insight into business operations by collecting and displaying key figures. Analytical apps require Virtual data models and run only on HANA database.
● Uses analytical capabilities of SAP HANA to provide insights in business data
● Available for S/4HANA and Business Suite and runs only on HANA database
Fact Sheet Apps
Fact sheet apps facilitate text search and display contextual information.
● Uses Contextual Enterprise Search capabilities of SAP HANA to provide search results
● Available for S/4HANA and Business Suite and runs only on HANA database